How could you Avoid Penalties for Incorrect Eway Bills?
How could you Avoid Penalties for Incorrect Eway Bills?
The Indian government has generated the Eway Bill this April 2018 that is necessary to carry while movement of goods across the whole of India. For its enforcement, authorized officers can stop any vehicle for document verification at any check post. And, if they get any information regarding tax evasion then they can even carry on vehicle's physical verification.
So, as you are aware of what Eway bill exactly is, but do you know, you may be held guilty and get penalized heavily if you don't fulfill certain requirements? If no, then this write-up will certainly prove a lifesaver to you.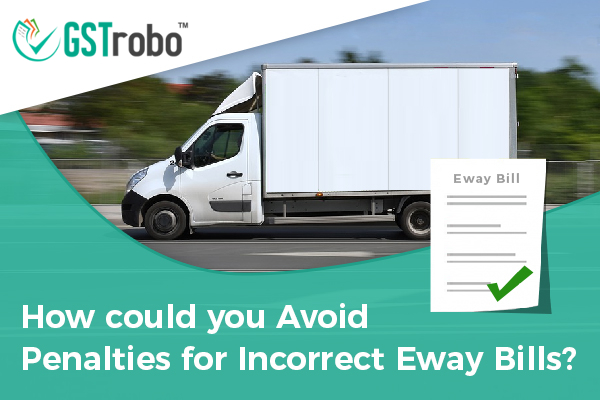 Keep on reading, what penalties you may get imposed with, at what circumstances and what should you exactly do to keep yourself safe.
Penalties for not complying with requirements or not paying the Eway bill
Penalties can be in any form, monetary or non-monetary, completely dependent upon your point of contravention of the law. Here are the penalty details:
Its necessary to carry Eway bill while transporting goods from one spot to another, which is clear proof that you have paid tax. However, if you don't carry it then it is considered as an offense and you may get penalized for the evaded amount of tax or Rs. 10,000 (whichever is higher) by the respective authorities.
Non-Monetary Implications
The authorities can seize the vehicle carrying goods and transporting it without having an Eway bill. The vehicle would only be released after payment of a penalty or tax amount as navigated by the concerned officer. So, here two situations arise:
If the goods' owner willingly comes forward to pay off penalty and tax then the applicable tax and penalty thereon would amount to 100% of tax payable.
If the goods' owner doesn't willingly pay off penalty and tax, then in such a case, the tax and penalty would equalize 50% value of total goods value deducted by tax already paid under UTGST Act (State/Union Territory Goods & Services Tax) and CGST Act (Central Goods and Services Tax Act) calculated separately.
So, carrying important documents like a bill of entry/ bill of supply/ invoice/ delivery challan along with E-Way bill, in either physical or electronic form, is a necessity while carrying a consignment of goods.
How could you save yourself from these penalties?
There is always a solution for any damn adverse situation. And, Eway bill is no exception. You just need to adopt these precautions while filling Part B of Eway Bill, we have mentioned below and you will be saved from the unnecessary burden of penalties. So, here we go!
5 Precautions that You Must Follow to bar the Penalties
E-way bill is compulsory to create by either supplier or transporter of goods. If none of them generates it, then they will face heavy penalties.
If within the time-period mentioned in the Eway bill, the goods don't get transported because of unforeseen circumstances, then the concerned person can update the transportation details by generating new Eway bill.
If in goods transportation, multiple vehicles are involved then before the first consignment gets completed, the supplier is required to issue the invoice. Plus, for further consignments, there must be an invoice copy and delivery challans copies. And original invoice will only be forwarded along with the last consignment.
For multiple consignments, multiple Eway bills are required.for each invoice, separate Eway will be generated. However, if all consignments are going in one vehicle, then after generating multiple Eway bills, you can consolidate those into one final Eway bill.
Make sure, all documents necessary for Eway bill, have been properly checked and valid. Otherwise, the transaction will be void and you will be held guilty to pay penalty.
Tip- If in between the transportation, you are changing the mode of conveyance then you don't need to generate several Eway bills for each mode. You just need to update it on single Eway bill and you're done. You can do it online as well.
We hope you go safely by adopting these valuable precautions. Write at info@gstrobo.com for more details on latest GST and E-way Bill news and updates, GST solutions and APIs, E-way Solutions and APIs. GSTrobo – A SaaS platform by Binary Semantics is an authorized GST Suvidha Provider, providing GST and E-way Bill services to its users compiling all the regulatory requirements of the GST law.